Buying Guides
Pool Table Buying Guide
Overview
A pool table makes a great addition to any space.
At home, it'll be the centrepiece of your games room, providing many hours of fun for your family, friends and visitors. At work, it makes a great distraction in your break room, where your employees and colleagues can decompress over a lunchtime game or compete in the office tournament. And in your venue, it will open a new income stream, keep your customers entertained, and boost the profile of your business.
But with so many models, styles and sizes to choose from, it can be a confusing purchase to make. Here we'll guide you through all the considerations and choices, the measurements and the options, so you can make the right decision.
Pool Tables for the Home
If you have the space, a pool table makes a great centrepiece in your home. You'll love being able to practice at every opportunity. Once home from work, simply grab a bite to eat and rack up those balls. Casual players and social butterflies might enjoy entertaining guests with a few drinks and a friendly tournament.
Your search for the perfect home pool table should start with the range of MDF pool tables available. These are fantastic value, well-made and many models provide a game experience that's almost as good as a slate bed. Some MDF table fold away to save space, or convert into a dining table, or even, in a multi games table, combine pool with other games like table tennis. Whilst ideal for families and children, they're also suitable for other light-use spaces such as shared houses or common rooms.
Pool Tables for Your Office
A pool table makes a great addition to your office breakout area. It will keep your employees entertained, motivated and makes a great social centrepiece for lunch breaks. Read more about pool table in office breakout areas.
How Much Space Will I Need?
Pool tables take up a lot of space, partly because they require access from all angles with plenty of cueing room.
At 7ft-8ft in length, British tables are more compact, and perhaps better suited where space is limited or where multiple tables are to be installed.
You should add the length of your cue to the depth and width of your table for a rough guide on space. So if you have a 6ft British pool table with a playfield length and width of 82cm x 160cm, you will need a room of at least 372cm x 450cm if you're using a standard 57-inch (145cm) pool cue.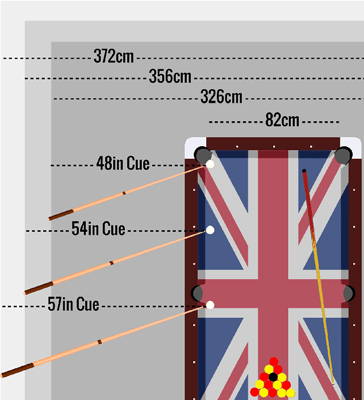 Pool Table Room Size Guide (Metric)
Table Spec
Table Size
Playfield
48" Cue
57" Cue
British 6'
190cm x 112cm
160cm x 82cm
404cm x 326cm
450cm x 372cm
British 7'
213cm x 121cm
183cm x 91cm
427cm x 335cm
473cm x 381cm
American 7'
235cm x 136cm
200cm x 100cm
444cm x 344cm
490cm x 390cm
American 8'
259cm x 150cm
224cm x 112cm
468cm x 356cm
514cm x 402cm
Poker Table Buying Guide
No poker game or room would be complete without one thing – a table. That could be a kitchen table for ahome game, a night stand at a hotel room, or a bar top at a restaurant. Most players have experienced playing the game away from the comfy confines of a casino.
However, a nice poker table with soft felt and a cup holder or two can make the game so much better and go a long way. Ready to add a nice table to your own man cave or poker room? Here are some concepts to keep in mind when making that purchase.
6 Things to Consider When Buying a Poker Table
There are many considerations to take into account when making that poker table purchase. Here are some questions to ask yourself:
What are my expectations?
How often do I plan on hosting a game?
Where will the table be located and how should it look?
What size and shape works best for my needs?
How much am I willing to spend?
Take some time to answer these questions to help determine what will work best. Here are some common characteristics of a poker table to review.
Shape and Size of Your New Table
When buying a table, consider what most of your regular games will be like. A few things to consider include:
Size
Shape
Number of players
Leg room needed
Room space available
Will it be just a small group of five or six friends playing. A circular or octagon-shaped table may be perfect for your poker room and smaller game. Many of these also include table covers so it can function as a regular table in a game room or family room.
If you plan on hosting even more players at your poker game, an oval, casino-style table may be the best option. These can accommodate as many as nine players and maybe even squeeze in a 10th.
Looking for a tournament featuring even more players for a decent-sized . You'll need enough space and may want to purchase an extra oval-shaped table that can be put away when the game breaks up.
Most tables have a length between 72 and 104 inches. Consider your poker crew and the space available in your room when making your selection. No one wants to be crowded in the room or at the table. Size selection may help avoid some of that when the game gets big.